Audio Gear Holiday Wish List - Headphones, DACs & More
If I had the funds here is what would be on my audio gear holiday headphones, turntables, Silver Dragons, amplifiers, and speakers wish list this year. And I'd buy everything from Drew and Nichole at Moon-Audio.com.
Chord Mojo DAC headphone amp at Moon Audio
Curagami Note
I've heard this little but powerful DAC and it's hard to listen to music without it now. My iPhone never sounded as good as when it had a little of Chord's Mojo Magic.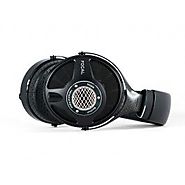 Utopia are the reference pair of headphones from Focal. The Utopia is the result of more than 35 years of innovation, development and manufacturing of speakers and loudspeakers in France. As a world first, Utopia features
the only full range and fully open back loudspeaker, built within a pair of headphones, using pure Beryllium formed in the brand new "M" shape dome.
Curagami Note
May seem absurd to spend $4K on something you can't drive, but I've heard these new cans from Focal too and they are worth it. The only reason they are #2 on my list is I an afford a Mojo these headphones not so much :). Marty
Astell & Kern AK380 Copper Amp at Moon Audio.
Curagami Note
Like many I know the move to lossless music is necessary to take full advantage of the high-end audio gear I already own (Fostex headphones, Shure KSE1500 IEMs), so a player is needed and friends on the Moon assure me this is the one to get. Love the copper look too.
Music Hall mmf 5-1se turntable at Moon Audio.
Curagami Note
I'd like to hear the vinyl I have sitting in my brothers house again even if that is only through my headphones.
Dragon Inspire IHA-1 tube headphone amp Moon Audio
Curagami Note
Would be a tragedy to have a great pair of headphones like my much wish for Focal's and not power them with the warm sounds of tubes. I've heard that combination, Focal + Dragon Inspired tube headphones amp and they sound SWEET together.
Dragon Inspire QMB-25 Mono Block Amplifier
Curagami Note
Since I wouldn't mind having speakers again if for no reason other than drowning out the obnoxious Duke student next door, so I'd opt for a pair of mono-blocks from Drew and the team at Moon Audio.
Reference 3A MM de Capo BE Speakers at Moon Audio
Curagami Note
I want speakers again, but I don't want to have to haul huge boxes around again like I had to with my Kef 104.2s. These small reference monitors should do the trick.
Silver Dragon interconnect v2 by Moon Audio
Curagami Note
All this new gear is going to need new cables too. I like the clear as a ringing bell sound from Drew's Silver Dragon so I'd opt for interconnects (between the turntable and preamp) and Silver Dragon speaker cables too.
PS Audio BHK Preamplifier
Curagami Note
As long as I'm spending everything I have (lol) may as well opt-in for a pre-amp I can use to set up those new speakers and headphones amp. This PS Audio will do nicely.