Best Holiday Art Gifts MoCA LA
Best Holiday Art gifts from Museum of Contemporary Art (MoCA) in Los Angeles. Find art gifts from Space Invaders to Alex Katz.
Nov 21, 2016 - mocastore.org -

1
This flexible key chain is inspired by the Space Invader arcade game. Four colors to choose from.  About 2.5 × 3.5 inches.
Curagami Note
Space Invaders is one of our favorite graffiti artist. This keychain is magical and cheap.
Nov 21, 2016 - mocastore.org -

1
This set of twenty boxed note cards features artwork by Robert Rauschenberg from MOCA's permanent collection. Twenty 5 × 7-inch note cards with envelopes.
Curagami Note
What's a holidays without some art by Robert Rauschenberg? Boring is the answer to that question. These cards feature great Rauschenberg "combines" and paintings and are sure to add magic, wonder and joy to your holidays.
Nov 21, 2016 - mocastore.org -

1
John Baldessari (born June 17, 1931) is an American conceptual artist known for his work featuring found photography and appropriated images.
Curagami Note
We saw the Baldessari at MoCA LA and it was magical. We didn't see this "wrong" eraser or we would have purchased 10 (lol). Even if you don't know John Baldessari's art this eraser is a dadaist statement of the first order. A great gift for a boss, wife, husband or brother.
Nov 21, 2016 - mocastore.org -

1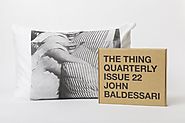 John Baldessari pillowcases.
Curagami Note
Sleeping on Baldessari sounds strange, wonderful and odd much like the California teacher's art. Great gift for the art-rich home. While we can't afford original Baldessaris we can afford MoCA LA's pillowcases.
Nov 21, 2016 - mocastore.org -

1
Jasmin Shokrian is a high-end, L.A.-based women's wear designer. Her garments have a strong aesthetic marked by both fluidity and architectural lines.
Curagami
Here is another cool little thing by an artist whose big work we can't begin to imagine being able to afford. We love the "art era" message too. Great gift for anyone on your list who loves fashion.
Nov 21, 2016 - mocastore.org -

1
A Four Labs is a Japanese street wear line headed up by noted designer Kazuki Kuraishi.  100% CottonMade in Japan.
Curagami Note
We love this t-shirt's tip of the hat to Andy Warhol's flowers. We also love how stark it is. We read an interesting quote about Warhol once - underneath all is black, strong blacks. This tee embodies that quote and would make a great gift for the Warhol lover in your family.
Nov 21, 2016 - mocastore.org -

1
Stelton is a Danish company that we admire for their innovative and high quality design.  The To Go Click Thermo cup keeps hot beverages hot and cold beverages cold.
Curagami Note
There are few brands we'd pay to have on our coffee mug. MoCA LA is one of those few brands. Great gift for the art lover in your family since they get to think about art every morning as they get ready for another day.
Nov 21, 2016 - mocastore.org -

1
This lamp is a nod to the brick – beautiful in its own right. Aesthetically blunt yet stylish and functional, the Brick Lamp is an adjustable LED task lamp for any cool desk.
Curagami Note
Need a gift for the architect or architecture lover in your family? What about your student son or daughter. Give this brick lamp and everyone who stops by your son's or daughter's room will want to know the lamp's story. We promise that will be the only story your college aged child is sharing, promise.
Nov 21, 2016 - mocastore.org -

1
Shape Cars - Soopsori [soop-so-ree, 'Sound of the Forest'] toys are handcrafted from 20 kinds of all-natural wood and finished with a harmless linseed oil, giving them a natural feel.
Curagami Note
Need to gift family with children? If they love art and design and appreciate cool gifts this Shape Car is too good.